Peanut butter is everyone's favourite spread, as well a popular ingredient in condiments and sauces.
It is made using a legume called peanut that is dry-roasted.
Since no gluten grain is used in making peanut butter, it is gluten free.
It is still a good idea to take a look at the label to ensure that it doesn't have glutinous additives.
---
Is peanut butter gluten free? In this article we will take you through all the information about peanut butter and if it is free of gluten or not. We will also show you some recipes to make your own peanut butter and even some popular brands you can find in stores.
Ah, peanut butter… It's delicious right? It goes with everything. Whether you want to dip your apples in it or put a spoonful of it in your quick-fix chicken skillet recipe, peanut butter works perfectly with many foods. And don't forget – it's vegan! It's a thing of real beauty, isn't it?
There's no reason you could possibly dislike peanut butter – unless, of course, you're allergic to it. But if you don't have a nuts allergy, then not being in an inseparable relationship with peanut butter may lead to some serious questions about your taste – or even your sanity!
But then again, if you're here reading this, you are probably worried whether this creamy, nutty paste of roasted peanuts is gluten free or not. Thankfully, yes – unless you happen to lay your hands on some product that has some unnecessary infusion of gluten-containing additives.
Is Peanut Butter Gluten Free?
Peanut butter has a fairly straightforward recipe, made using peanuts which is first dry-roasted and then ground to make a paste. The only additional ingredients are salt and sugar, oil, and you have your delicious spread. Peanut is gluten free.
Did you know that peanut is not technically a nut, despite what the name suggests? Peanut falls into the category of legumes that includes lentils, peas, and beans.
It comes from a pod with many seeds. And legumes don't have gluten. So, by default, peanut butter is naturally free from gluten.
It fits perfectly into a vegan diet and is full of nutrients. Besides, it is a healthy choice for gluten-sensitive people. If you decide to make it at home, there's nothing like it. And, even if you want to pick a bottle of peanut butter from the market, likely, you'll still be safe.
Why You Need To Be Careful
With 3 million Celiac patients in the US alone, gluten allergy, or even Celiac disease cannot be taken lightly. If you are gluten intolerant, you always have to be extra careful about the food you consume. And, that includes packaged variants of the most popular gluten free food items.
The only way to manage symptoms and prevent complications is to stay away from gluten completely. That's why you need to be so careful. Very often, packaged food may contain flavourings or preservatives, which, without you knowing, can add gluten to an otherwise gluten free food.
The truth is that even though peanut butter should be naturally free from gluten content, store-bought peanut butter might contain traces of gluten – because of some rare glutinous additives. But, don't be intimidated by this. This is an unusual happening, rather than a common possibility.
Peanut is gluten free – whether it's turned into flour or pressed to derive oil. Gluten, after all, is present in wheat, rye, and barley. It can cause severe damage to your intestine if you're allergic. There are very few brands of glutinous peanut butter.
It's a good idea to look for a brand that's labelled as "gluten free". That way, you can be absolutely sure. However, if you do pick a brand that doesn't mention it's gluten status on the label, you can take a look at the list of ingredients to find out if it's the right one.
In the case of processed peanut butter brands, some additional ingredients may be present, besides the primary ingredients. But even then, it's rarely possible that such additives have gluten. So, just to be on the safe side, take a look at the label to find out more about the product.
You also cannot rule out the possibility of cross-contamination. If the peanut butter is processed in a facility that deals with gluten-rich products, it's possible for the otherwise gluten free peanut butter to get traces of gluten. Such information is usually mentioned on the label.
Related: Gluten free instant pudding | Is marshmallow fluff gluten free
But remember that these are rare cases. Most manufacturers have a proper protocol in place to avoid cross-contamination. Besides, even highly processed peanut butter seldom contains gluten-rich additives. So, peanut butter is safe for you, though you should check the label to be 100% sure.
Peanut Butter Ingredients, Nutrients – and Some History
The relationship between humans and peanuts is 3,500 years old, with the plant originating in South America. It was the Europeans who first took this delight to the rest of the world from Brazil.
Peanuts went on a world trip, travelling across Europe, Asia, and Africa, until it finally reached North America.
Evidence suggests that the Aztecs and the Incas knew the technique of grinding peanuts to make butter. But the modern version of peanut butter was first introduced to the world in 1884 by a Canadian named Marcellus Gilmore Edson. Now, don't you even bad-mouth Canada ever again!
Ingredients of Peanut Butter
The ingredients in the peanut butter that you get in the stores may vary. It depends on the manufacturer, of course, who might want to use their preferred recipes to add something unique to their products. However, the key ingredients remain the same:
Peanuts: Well, duh! You get no brownie points to guess that the main ingredient of peanut butter is the peanut. They may be ground to a fine consistency or left a little chunky and crunchy.

Oil: If you're enjoying silky, creamy peanut butter, that's because there's some kind of oil added to this paste. And, most of the edible oils that we use commonly do not have gluten in them.

Sugar and Salt: These are added to season the peanut butter. And neither contains any gluten. So, the key ingredients required to give you a bottle of delicious peanut butter are all free from gluten content. But, in the rare scenario where a manufacturer uses emulsifiers, flavouring agents, or other additives to make its product unique in taste and texture, that's mentioned on the label.

Nutritional Facts:
Every serving of 2 tablespoons of peanut butter, made with the traditional recipe, contains 180-190 calories. It also contains 6-7 grams of protein, which suggests that peanut butter is an excellent source of protein.
It further has 6-8 grams of carbs, including around 2-gram dietary fibre and 14-16 grams of fat. Peanut butter also contains iron and calcium.
Peanut Allergy:
Peanut allergy is a wide-spread condition in the world, especially America. This condition is when your immune system thinks that the peanut protein is a threat to your body. As a result, it will start to shoot chemicals into the bloodstream, causing symptoms.

The most severe reaction that peanuts can cause is anaphylaxis. Symptoms can be anything from swelling of throat and tongue, impaired breathing, to low blood pressure and passing out. So, it is crucial to stay away from peanut butter if you are allergic to it.
Gluten Free Peanut Butter Brands
Finding peanut butter in local stores is not going to be difficult at all. Here's a look at the most trustworthy brands if you're looking for the safest options for gluten intolerant people:
Peter Pan
It offers different varieties of textures and tastes. You even get a low-fat version.
Adams
Its product is organic and natural. And, it takes steps to prevent cross-contamination.
Crazy Richard's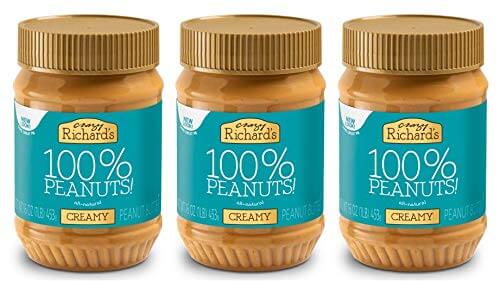 The brand proudly states that the only ingredient it uses in its product is peanuts!
Justin's
It manufactures several gluten free products, including different peanut butter varieties!
PB Crave
It offers five sweet and fruity flavours of peanut butter. And, all of them are gluten free.
How to Make Gluten Free Peanut Butter at Home
While there are plenty of gluten free peanut butter brands sitting on the shelves on your local grocery stores and supermarkets, you can always choose to make your own at home! It's a really fuss-free, easy recipe, with just four items.
Ingredients:
Peanuts: 2 cups
Sugar/Honey: 1-2 tbsp (optional)
Salt: To taste
Oil: As needed
Instructions
Dry roast the peanuts by baking them in the oven for 10 minutes at 350°F (177°C), till they turn golden brown. If you enjoy the taste of raw peanuts, you can skip this step
Transfer the roasted peanuts to your food processor and start pulsing, to break the nuts up
Now, add the salt and sugar/honey
Start the processor again and continue to run it till the butter reaches a smooth consistency
Stop every now and then to scrape the sides of the jar and adjust the taste
If you see that things are too dry, slowly drizzle in some oil, teaspoon by teaspoon. The additional fat will help the emulsification process
Your peanut butter should be ready after 4-5 minutes of processing.
If you want to make chunky peanut butter, just add some chopped peanuts and fold it in before you transfer it to a jar. Store it in the refrigerator or at room temperature.
Gluten Free Recipes with Peanut Butter

If you're a true fan of peanut butter, you know that it is only for spreading on your break or to serve as a dip for your apple sticks. Let's take a look at two delicious, and gluten free recipes in which peanut butter is the hero ingredient!
A. Gluten Free Peanut Butter Cookies
This is a delicious snack that everyone in your family will snack on. Beware: these get stolen, but children and adults alike!

Ingredients
Homemade peanut butter without added sugar and fat: ¾ cup
Coconut sugar: ¾ cup
Vanilla extract: 1 ½ tsp
Salt: ¼ tsp
Baking soda: ½ tsp
Egg: 1 (large, cold)
Instructions
Preheat your oven to 350 °F.
Put all the ingredients in a mixing bowl and combine them well using an electric mixer. Continue until the mix becomes firm.
Make small balls out of them. You should be able to roll out around 8 balls
Place a piece of parchment paper on the baking tray and put the balls on the tray around 4 inches apart to give them the space to spread
Place the tray in the lower third of your oven and start baking immediately
Bake till the top of the cookies seem cracked. This should take around for 11-14 minutes.
Store them in an air-tight container. These will stay good for five days. But you'll probably gobble them up before that.
B. No-Bake Peanut Butter Protein Bites
This healthy snack is a perfect addition to your diet to give you just the right boost you need to meet your daily protein goal.

Ingredients
Peanut Butter: ¾ cup
Maple Syrup: 1/4 cup
Almond flour: ⅔ cup
Cocoa powder: 1 tbsp
Semi-sweet choco chips: 6 tbsp
Whey protein: 2 scoops
Vanilla extract: 1 tsp
Salt: A pinch
Water: As required
Instructions
Put all the ingredients in a mixing bowl and mix them together. Add a teaspoon or two of water if it looks too dry.
Once the mix becomes firm, make bite-size balls. That's it!
Store them in an air-tight container and refrigerate. You can even freeze them! It's easy to make – and easy to pop into your mouth!
C. Peanut Butter Satay Sauce
If you're looking for a dip to go with your skewers or fries, here's a quick fix for you – a flavoursome peanut butter sauce!

Ingredients
Lime: Half, juiced
Honey: 1 tsp
Smooth peanut butter: 3 tbsp
Gluten free soy sauce: 1 tbsp
Curry powder: 1 tbsp
Coconut milk: 1 ca
Instructions
Add all ingredients, except coconut milk, in a bowl, and mix them together.
Heat a pan and add coconut milk.
Add the mixture to the coconut milk in the pan and stir constantly, till it all comes together.
Conclusion
So, you know now that even if you are allergic to gluten, you don't need to worry about peanut butter, as it is entirely gluten free.
You can make it yourself at home to be extra sure. Or, you can pick some of the reliable brands from the store.
However, do make it a point to check the label and make sure that it has no glutinous additive or any chance of cross-contamination. After all, you can never be too careful.
That's probably the biggest challenge of going gluten free – but a little effort can give you the gift of health.