Ferrero Rocher is world-famous chocolate.
Ferrero is the third-largest confectionery company in the world.
Ferrero Rocher is an iconic luxury chocolate brand cherished in the world.
Ferrero Rocher is NOT gluten free.
---
With growing awareness of nutritional diets, everyone is becoming super cautious about what they put on their plates.
The entire process of going gluten free is exhilarating and tiring, especially when you can't have your favorite desserts and chocolates. We wanted to know if Ferrero Rocher gluten free.
Among the entire chocolates, desserts, and candies, brands rarely come up with gluten-free products. It isn't easy to make as well as process tasty toffees without gluten.
However, multiple flavored jelly beans and gummy bears come with sugar-free and occasionally gluten free variants. 
Well, no matter what, chocolates don't taste the same without gluten! So here, let's focus on if the renowned chocolate Ferrero Rocher is gluten free or not.
So let us dive into it the topic…
Is Ferrero Rocher Gluten Free?
Unfortunately, Ferrero Rocher is not gluten free. The chocolates are made out of wheat flour which has a gluten content of 14%.

The gluten content in the wheat flour makes the Ferrero rocher batter rise and give a fine texture to the balls. 
The Rocher balls are also significantly rich in calories, and each chocolate sums up to 75 calories.
The calories of 0.4 ounces of chocolate are distributed like this:
Fat = 5.3g
Carbohydrates = 5.3g
Fiber = 0.3g
Protein = 1g
Ferrero Rocher has rich calories, fats, and gluten.
What is Ferrero Rocher?
Ferrero Rocher is a world-famous product of the well-established Italian brand Ferrero since 1979.
It is a chocolate product made of milk chocolate and rich hazelnut, which comes in a ball shape covered with foil and a paper liner. 
The most loved chocolate's making process is highly secretive. Nevertheless, the Rocher chocolate balls have become an integral part of traditions, gifts, especially during Christmas.
Ingredients of Ferrero Rocher
The primary ingredients of Rocher chocolate balls are roasted hazelnut and milk chocolate.
It comprises three layers: the pure chocolate encased in a thin wafer shell covered with milk chocolate and finely chopped hazelnuts.
The precise ingredients that make a Ferrero Rocher are:
Milk chocolate: it's a sweet mixture of Cocoa, Sugar, and Milk.
Sugar: highly refined sugar
Cocoa: a rich powder made from roasted and grounded Cacao seeds
Butter: unsalted butter
Cocoa mass: high-quality cocoa beans are fermented, dried, and roasted to separate them from their shell to make cocoa mass.
Skim milk: Milk without any form of milkfat
Butteroil: it is dehydrated butter and has a rich fat content.
Lectin: it is a sugar protein used in food.
Vanillin: it is used for flavoring foods and retaining the taste
Hazelnuts: good quality roasted hazelnuts are used
Palm oil: high refined oil extracted from the palm is mixed
wheat flour: fresh wheat flour makes the batter
whey: it is also called milk powder and gives a rich texture to the food
low-fat Cocoa powder: it is added to the mixture to even the taste of chocolate
Sodium bicarbonate: Salt acts as a preservative.
Many brands extensively use Ferrero Rocher chocolates to make milkshakes, decorate cakes, make cookies, chocolate milk, and many more.
Chefs keep experimenting with new recipes and dishes with these chocolates for their rich and fantastic taste.
Health benefits of Ferrero Rocher
Chocolate Content May Decrease the Risk of Heart Attacks and Strokes
The rich chocolate of Ferrero Rocher may help to prevent blood clots and improves the functioning of the heart.
It is a medical fact that chocolate consumers have a slow ability to clump the blood platelets. Thus, chocolates help in decreasing the risk of heart attacks and strokes. 
May Prevent Cancer
Rich in chocolate content, Ferrero Rocher may contribute to preventing cancer. This is because of the presence of flavanols in cocoa beans, an ingredient of chocolate.
Flavanols are antioxidants in nature that prevent cell damage. As cell damage is a major contributing factor to cancer, it is assumed that chocolate can help in preventing certain types of cancer.
Hazelnut Strengthens Brain
It is claimed that eating rich chocolate protects the cells in the brain.
Ferrero Rocher has good quality hazelnuts containing vitamin E, manganese, thiamine, and folate to keep your brain in top shape. It activates your brain cells to function faster and better. 
Can Gluten Free Ferrero Rocher Balls Be Made?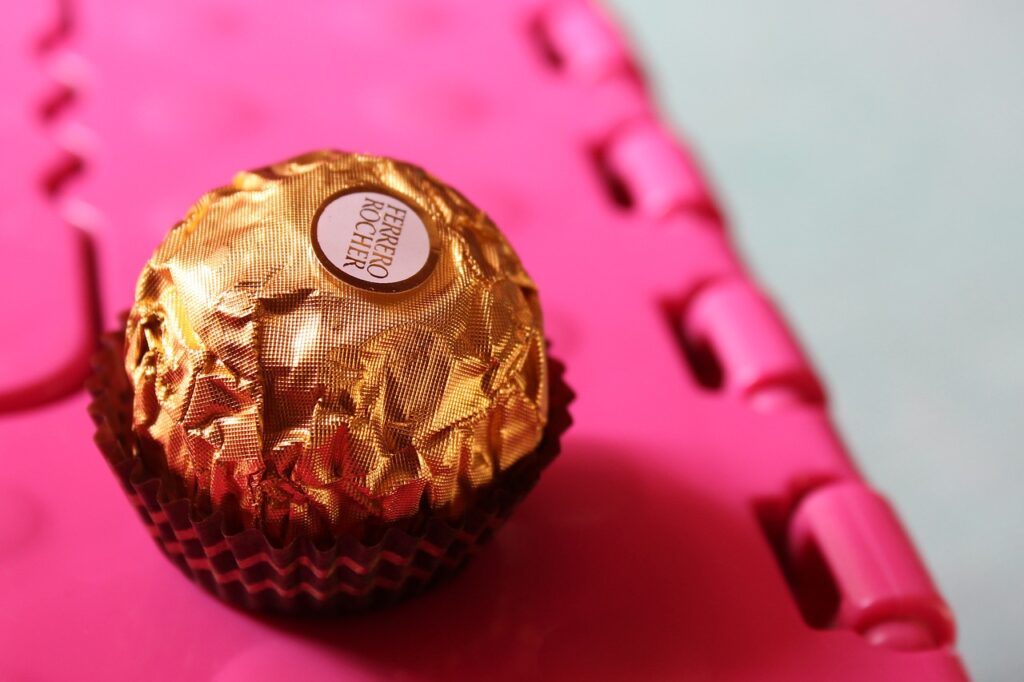 Ferrero Rocher's tasty chocolate balls can come as a hindrance to your plan if you seek to eliminate gluten from your diet.
It is challenging to go out of your chocolate addiction, especially when it's this delicacy in hand. Well, fear not, here is a recipe that satisfies your chocolate craving while being healthy at the same time.
Gluten free Ferrero Rocher balls are perfectly healthy without grains, skim milk, eggs, or refined sugar.
These balls are great for kids with decaying teeth and adults who love the Rocher balls.
Hazelnuts are rich in copper, manganese, Vitamin E and act as a perfect antioxidant.
Eating Hazelnuts can help you become sharper and brighter! Dates, on the other hand, are rich in potassium, fiber, and protein.
They instantaneously boost your iron, zinc, and your immunity level. And Finally, Cocoa powder is full of antioxidants, reduces blood inflammation, acts as an anti-aging agent, lowers blood pressure, reduces heart strokes, and many more. 
It's pretty easy to make Gluten Free Ferrero Rocher balls. Follow the steps to make tasty afternoon munchies:
Take 1 ½ cup of black dates, remove their seeds, and put it in the blender. Soak them if you feel the dates are hard and stiff.
Add ¼ cup of unsweetened cocoa powder to it.
1 cup of chopped hazelnuts, maybe some cashews if you are a nut lover,
2 teaspoons of vanilla extract to give it some flavor,
A pinch of salt and blend them all.
Take the thick dough and put it into a bowl,
Use the dough to make rocher balls of your desired shapes.
You can add more chopped nuts while making the balls.
If you love dark chocolate, feel free to pop a few dark chocolate pieces while blending.
Or melt a few pieces of dark chocolates in a bowl and dip the balls to coat them.
Let them dry and refrigerate them for 30 minutes.
The dates act like sugar and milk and give a refined taste along with the chocolate. In case you like Nutella or KitKat, you can add them to the final extract.
The gluten free balls can be served with chocolate syrup or raisins, making a perfect snack for the kids. With dark chocolate coating, they are perfect stress-busters for adults.
In conclusion
Ferrero Rocher is not gluten free but has quite a few health benefits if you eat them moderately.
It is unique chocolate that offers rich hazelnut and creamy milk chocolate taste along with a crispy wafer crunch.
Try not to forget to experiment with the new Ferrero Rocher recipes to make your cooking and baking experience a blast!
More Posts for You: