Risotto is a rice dish that comes from northern Italy.
Its ingredients include rice, broth, cheese, aromatics, veggies, and proteins.
Generally, risotto is gluten free unless it is cooked with gluten-rich additives.
Risotto may have gluten as a result of cross-contamination or as a result of the recipe.
---
What is risotto | Risotto ingredients | Gluten free risotto brands | Recipes
Is risotto gluten free? Imagine a rainy evening, when you're all cooped up with a book in your hand, and all you're craving is a bowl full of gooey deliciousness. Sounds like an evening for risotto, right?
Now imagine yourself on a date at a swanky restaurant in a romantic setting. Risotto can still be sitting on your table.
This comfort food slash gourmet dish from Italy is versatile and delicious. But, is risotto gluten free?
The dish is traditionally made from rice, with cheese, broth, and ingredients like mushrooms, saffron, red wine, and more. These ingredients in risotto don't have gluten.
So, ideally, it should be gluten free, unless it is specifically cooked with glutinous additives. But as a handmade dish, it may get cross-contaminated. Packaged risotto can be trusted if it's certified as gluten free.
Is Risotto Gluten Free? What is Risotto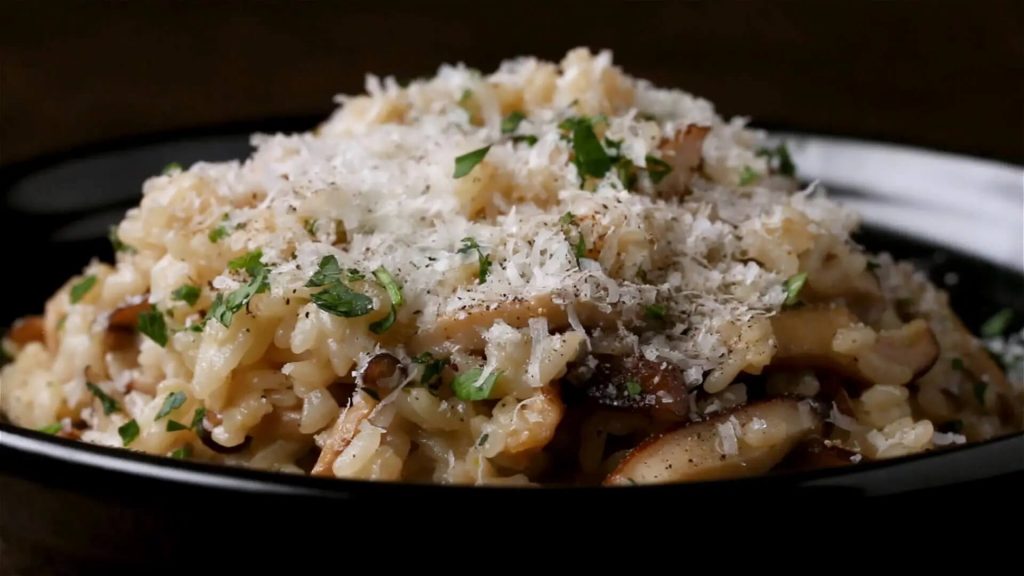 Risotto is one of the most popular rice dishes in the world. A soul-warming delicacy from Northern Italy, risotto has a rich, creamy texture that comes from the starchy arborio rice.
The cheese and the broth have a part to play in the consistency of this rice dish. But unlike many brothy recipes, the preparation of risotto doesn't usually use a texturizer. So, does it mean that risotto is gluten free?
The recipe of risotto only demands gluten free ingredients like rice, cheese, broth, aromatics, and veggies or proteins.
So the dish should be gluten free. But the discussion doesn't end there. The broth may have flour or yeast extract.
Besides, risotto is a handmade dish that cannot be tested for trace gluten. So, there's every possibility of cross-contamination, with traces of gluten in the final dish.
Cross-contamination may occur in the packaging or processing of the natural ingredients used in cooking this Italian dish.
It can also happen at the time of preparing the dish in the restaurant. All of these can add gluten content to the risotto at various levels because of shared facilities unless special care is taken at every step to ensure a gluten free environment.
Many restaurants are dedicated to their gluten-allergic and celiac customers and ensure that the cooking process is free from possibilities of cross-contamination.
The products used are tested and proven to be free from trace gluten. You can also take special care to cook gluten free risotto at home. The ready-to-eat risotto packages, tested and labeled as gluten free, are also safe.
Gluten in Risotto and Cross-Contamination
Risotto, in general, is made from gluten free ingredients. Yet, it cannot be said with certainty that every dish brought in front of you is free from gluten and is absolutely safe for everyone who is allergic to gluten.
Why? The reason behind this is cross-contamination, i.e., the unintentional transfer of gluten into the dish through contact with gluten-rich products or other contaminated products.
Ingredients in Risotto
Let's see how ingredients can contribute to the gluten content of risotto.
Rice
The key ingredient of risotto is rice – to be more precise, arborio rice. It is very starchy, which is what gives the risotto such a cream-like base.
Rice may not be a gluten grain, but during the process of growth, production, packaging, storage, and shipping, it can come in contact with gluten grains. Usually when cooking rice we would recommend washing the rice before cooking to avoid the chance of cross contamination. However with risotto specifically. it's not a good idea.
Or, each of the steps may take place in shared facilities or use shared utensils so it's better to ask your server or person who is making the risotto to make sure they are familiar with Gluten cross contamination.
The gluten content is not intrinsic in rice. However, the original way of cooking risotto prohibits the pre-rinsing of the rice grains. This is to keep the starchiness of the grains intact, to add thickness to the broth.
Broth
The rice is simmered in broth, which is essential for the creamy base. It is a stock made from proteins and vegetables and has a gelatinous quality.
Some Broth brands add yeast extract and wheat to add thickness to the broth, and it may add gluten to it obviously, though they are not common ingredients and most brands do not, especially if you make it at home, so just check before using.
The broth may have butter, spices, wine, and other additives for flavors, color, and consistency. These are all gluten free in general.
Cheese and Additives
Another essential ingredient is cheese, which is naturally free from gluten.
The risotto itself as a dish is gluten free, but we always have to consider the other ingredients added to the dish at different stages of cooking. It can be said that even if risotto is free from gluten-rich ingredients, cross-contamination might still ruin it.
Related: Is fried rice gluten free | Is bacon gluten free
Things to make sure when eating risotto outside
It is possible that they make sure to use nothing but the best quality gluten free products. However, They may store the items in the same containers that have previously stored gluten products.
Plus, at the time of cooking, restaurants may use the same utensils that they use in cooking gluten-rich dishes.
Risotto also contains lots of butter. Traditionally speaking, another remarkable ingredient of risotto is saffron, which falls under the category of herbs, spices, and aromatics.
From white wine to mozzarella, from rosemary to porcini, anything can go into the dish and make the base recipe unique.
Risotto Alternatives
Sometimes, when arborio rice is not readily available, many people like to replace the rice grains with pearled barley to enjoy the starchy texture.
Sometimes, whole wheat berry is also used for the same. As a result, gluten gets added to the dish. Besides, yeast extract for flavors and flour as a thickener may also be used in risotto.
Both are harmful. Be wary of flour-coated risotto cakes and patties, too!
Cooking and Serving
Planning to order risotto at a restaurant? Talk to the staff and find out if they are an authentic gluten free facility that uses separate containers and utensils for non-gluten products or dishes.
The same goes for home-cooked risotto, as well. Keep different containers for storing the ingredients and separate utensils for cooking and serving gluten free meals in your kitchen.
Cooking risotto is a long process. So, to make matters easy, many brands manufacture packaged risotto.
These are pre-cooked, and you have to heat them or follow the instructions on the package for a few easy steps to serve risotto.
It is essential to check the list of ingredients on the label. More importantly, check for the "gluten free" seal, which is proof that the product is tested.
Is Risotto Healthy?
Risotto has long been popular in northern Italy, as well as in the rest of the world among people who appreciate Italian cuisine.
Little is known about the exact origin of the dish, except for a few legends or mentions here and there.
But who cares about the background, right? Foodies just love to let the cheesy, starchy, flavorful dish soothe their souls, even when served as a gourmet dish.
The dish is loaded with fat, starch, and carbs. The combination gives this dish a moreish quality that everyone loves.
After all, who wouldn't love a rich dose of all these? Every spoon of risotto is a spoon filled with warmth and happiness.
It's definitely great for your mind. But whether your body will agree or not is a different subject. After all, every serving of 50 gm contains around 350 calories.
The calorie-rich dish is packed with fats, carbs, and energy. So, if you exercise regularly and follow a strict diet, occasionally indulging in risotto won't be harmful.
You will be able to burn off the extra calories. But if you don't have an active lifestyle, or choose to have risotto regularly (though that's difficult, considering how time-consuming the cooking is), you'll gain body fat and weight.
Besides, risotto contains refined carbs in the form of arborio rice, which is not very healthy.
Plus, it does not contain high amounts of healthy nutrients, including proteins, and loading up on carbs and fats won't compensate for them. Plus, cheese has dairy, which is harmful to those who are allergic.
Risotto is rich in GABA. The rice used in risotto contains GABA, which is known to have a protective effect on the brain against harmful amino acids that may be associated with Alzheimer's disease.
The GABA content is also a suitable replacement for the missing protein. It has other health benefits, too.
Gluten Free Risotto Mixes
We have already told you that there are many risotto mixes available in the market. Cooking risotto is a time-consuming process.
Plus, you need to give it constant care. So, many people feel intimidated to cook it at home.
The time and effort required to prepare the dish perfectly also make it an expensive delicacy to order at the restaurant. That is where the risotto mixes step into the scene.
A purist might feel that "risotto in a package" is nothing but blasphemy. But they are not coming to your home anytime soon to whip up some traditional brothy arborio fiesta, or willing to take you to the nearby Italian place for a plate of authentic risotto.
So, instead of missing out on this goodness, you can try the store-bought mixes of ready-to-cook risotto to fix you a quick and tasty meal.
However, you have to check the package properly before making the purchase. You must have already guessed why – to check for the gluten content in the product.
Packaged risotto may contain non-gluten ingredients. You'll be able to see that on the list of ingredients marked in the label.
But then again, such products may contain trace gluten as a result of cross-contamination. If a product is not marked as gluten free, it means that it has not been tested.
Nor has it been processed in a gluten free manufacturing and storage facility. If you're severely allergic, it might make you sick.
If you are not severely allergic, you can try risotto mixes made with gluten free ingredients to check your tolerance level.
Consume only a small amount of it during the testing phase. If you notice that the risotto mix is not making you sick, it means that the product is safe for you.
To be on the safe side, the ideal thing to do is to pick a risotto mix that is marked as gluten free.
It means that the production and the manufacturing and processing unit have been tested and declared free from gluten. Here's a list of risotto mixes that are either marked gluten free or use non-gluten ingredients only.
According to most online discussion forums, these products do not trigger an allergy.
Top brands of packaged gluten free risotto mixes:
Lundberg
The package of Lundberg risotto proudly flaunts the gluten free seal from GFCO, telling clearly that the product is safe for you if you want to avoid gluten.
It has six traditional risotto mixes and three sprouted risotto mixes. All of these are certified as gluten free. Its gluten content is less than 10 ppm.
Roland Food
While Roland's risotto pack doesn't bear the gluten free mark, the brand markets it as gluten free, even in Italy, which is hugely welcoming about non-gluten choices.
It claims that all six of its risotto variants have less than the permitted level of 20 ppm, and consumers have never complained.
Stonewall Kitchen
Stonewall Kitchen offers only two distinct flavors or risotto, but both of them are extremely popular.
The brand assures that both variants are made from non-gluten ingredients, which is also mentioned on their website. People with gluten allergy, who have consumed it, have not reported any issue.
Gluten Free Risotto Recipes
Not convinced about ordering risotto from restaurants or buying gluten free risotto mixes? Why don't you try and make it at home?
Home-cooked food is one of the best options for every gluten-intolerant person, as compared to restaurant food. So, here are two recipes for gluten free risotto that you can make at home.
Gluten Free Parmesan Risotto Recipe
Let's start with a simple base risotto recipe that you and your family will fall in love with.
Ingredients
Butter – 2 tbsp
Onions (medium) – 1 piece (coarsely chopped)
Garlic: 3 cloves, chopped
Dry white wine/apple juice – ½ cup
Arborio rice (or carnaloni/brown/suchi/basmati rice) – 1 ½ cups
Chicken broth (homemade or store-bought, gluten free) – 2 cups (warm)
Water (warm) – 1 cup
Parmesan (grated) – ¼ cup
Black pepper – To taste
Parsley (chopped) – As desired
Instructions
Set a large skillet on medium-high heat and melt butter. Add the chopped onion and garlic and start sweating it till the onions become tender. Keep stirring.
Bring the heat down to medium and add wine. Continue cooking till the liquid evaporates.
Add the rice and stir it in. Cook the rice, uncovered, for 5 minutes. Stir frequently. The grains start to become translucent at the edges.
In a bowl, mix the broth with the water. Now, add ½ cup of this mix to the rice and cook, uncovered. Stir it frequently till the liquid is absorbed.
Repeat the process with the rest of the broth mix, adding ½ cup of it at a time. Continue until the liquid is all gone, and the rice becomes tender with a creamy base.
Add grated cheese, freshly ground pepper, and chopped parsley, mix, and remove from heat.
Your risotto is ready. You can grate in some more parmesan at the top if you like. You can also amp up this vegetarian recipe with some mushrooms or chicken for added flavor or texture.
No one can say no to this delicious risotto, cooked with ingredients available in the house!
Gluten Free Oven-Baked Risotto (Chicken)
Here's a risotto recipe that won't need you to stare at the dish and stir it while it cooks. Take a look!
Ingredients
Butter – 3 tbsp
Onion – ½ piece (chopped)
Carrot – 4 pieces (chopped)
Celery – 2 stalks (chopped)
Red bell pepper – 1 (chopped)
Basil (minced) – 2 tbsp
Oregano – 2 tbsp
Rice – 1 ½ cups
Chicken broth (gluten free) – 2 cups
White wine (or dry vermouth) – 1 cup
Salt (sea/kosher) – To taste
Pepper – To taste
Olive oil – 2 tbsp
Chicken breast (boneless, skinless) – 2 pieces OR Thighs (boneless) – 8 pieces
Mozzarella cheese – 3 oz (cut to pieces of ½ inches
Parmesan cheese – ½ cup
Parsley – To garnish
Instructions
Place the rack inside the oven and preheat it to 400 F.
Set a large skillet on medium-high and put butter in it.
Add the chopped veggies and cook for 5 minutes. Don't forget to stir.
Add the herbs and stir again. Cook until the onions start to look translucent. Turn off the heat and set the vegetables aside.
In a baking dish of 9×13 inches, put the rice, wine, and broth and stir them. Distribute the content evenly inside the pan. Ensure that the rice remains submerged.
Distribute the cooked vegetables on top of the rice. Scrape the skillet and put all the remaining spiced butter into the baking pan.
Sprinkle some salt and pepper. Cover the baking pan tightly.
Bake for 35-45 minutes. The time may vary depending on the rice you have used. Just make sure that the liquid is completely absorbed, and the rice is soft.
Take the same skillet in which you sauteed the veggies. Set it on medium-high and put oil.
Sprinkle salt and pepper on the chicken to season it. When the oil in the skillet starts to simmer, add the chicken.
Cook the chicken until it comes golden, and flip it. Cook till it just starts to lose the pink color on the outside. Use a thermometer to check if the temperature inside is 160 F.
Take the chicken off the heat and let it rest for 5 minutes. Then cut it into cubes of ½ inches.
Take the rice out of the oven and fluff it with a fork. Add the chicken cubes and stir them in.
Sprinkle the pieces of mozzarella and the Parmesan cheese from the top.
Cook for another 3-5 minutes in the oven to melt the cheese.
Your baked risotto is ready! No stirring, no constant vigilance – just delicious bowls of risotto for everyone.
You can replace the chicken with anything else you like, like mushrooms or seafood!
Conclusion
Risotto is a delicious Italian dish that is traditionally made of gluten free ingredients. Most of the risotto recipes that we come across have no gluten.
However, we cannot be blindly confident that every single dish of risotto is free from gluten. The broth may contain gluten-rich thickeners or flavorings.
The recipe may contain other gluten-containing additives. Plus, cross-contamination is a huge problem.
It is difficult to be sure that handmade risotto, served at restaurants, is undoubtedly gluten free.
It is not possible to test the ingredients, facilities, or final dish. As for packaged risotto mixes, the ones that are marked as gluten free or made of gluten free ingredients may be considered safe options.
To be on the safe side, you must always check the certification.