Sesame oil is an edible oil that is used in cooking and seasoning.
It is extensively used in Asian cuisines.
It is extracted from sesame seeds.
Sesame oil is gluten free unless there's cross-contamination.
---
Is sesame oil gluten free? This was a weird question for me to ask as I didn't even know sesame may contain gluten, and as it turned out, it doesn't! So people with celiac or gluten allergy can safely consume sesame oil.
If you are a fan of Asian cuisines, then you're probably familiar with sesame oil. It is used as cooking oil, seasoning, vinaigrette, and condiment.
It adds a delicate, toasty character to any dish. While cooking, it is often mixed with less stable cooking oil for enhanced flavors and to put the oil's anti-rancidity properties to use.
Sesame Oil Gluten Free Confidence Score
All varieties of sesame oil are derived from the seeds of the sesame plant. These seeds do not contain gluten, and so, the oil extracted from sesame seeds is naturally free from any gluten content.
So, ideally, it should not matter which brand of sesame oil you pick. That's because unless there is any cross-contamination, sesame oil is safe for consumption by gluten-intolerant people.
What is sesame oil
Sesame oil is quite popular in Oriental cuisines like Chinese, Korean, and Japanese, as well as in the Middie-Eastern cuisine.
It is also used in South India. But if you're wondering whether or not you can use this flavorful oil in your cooking, there's no need to worry about its gluten content.
Irrespective of the brand, sesame oil is always gluten free. That's because it is derived from the seeds of sesame plants.
Naturally, sesame oil, extracted from the seeds of this plant, does not contain any gluten. So, it is safe for you to consume, even if you are allergic to gluten.
But if you're severely sensitive and concerned about cross-contamination due to contact with gluten-containing products, you can specifically look for sesame oil brands with a gluten free label, just like you do for all edible products.
Types of Sesame Oil
Sesame oil has been used for generations for cooking, as well as for medicinal and cosmetic purposes. This oil is extracted from the seeds of the sesame plant.
It is vastly popular in Asian countries. The oil is rich in nutrients and has a strong flavor. There are mainly two types of edible sesame oil:
Roasted sesame oil
Light sesame oil
a) Roasted Sesame Oil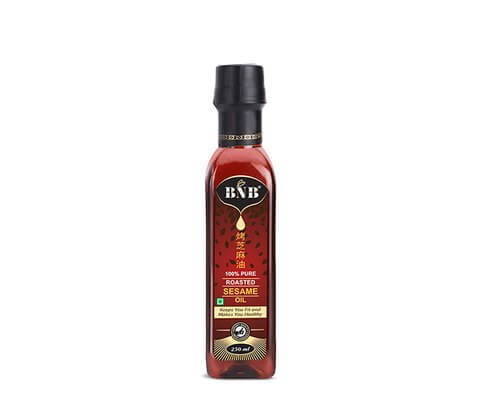 The roasted sesame oil has the color of liquid gold and has a distinct, robust flavor.
It is derived from sesame seeds that are first roasted and then cold-pressed to give you the finished product.
This roasted sesame oil is so strong in flavor that it can generate a burnt taste if you deep-fry your food in it. It's best if you use it as a seasoning, topping off salads and stir-fried noodles for the nutty zing.
b) Light Sesame Oil
Light sesame oil is extracted from unroasted sesame seeds by pressing them. It is much lighter in color and milder in flavor, and it is used for deep-frying.
It is an all-purpose oil that you can use in place of any neutral oil for cooking purposes. This regular sesame oil is easier to find in the market and is also available at a much lower price.
100 grams of sesame oil contains 14 grams of saturated fats, 42 grams of polyunsaturated fats, and 40 grams of monounsaturated fats.
Related: Is vegetable oil gluten free | Is apple cider gluten free
It provides 884 calories of energy, and 17% of the daily value of Vitamin K. The primary constituent fatty acids in sesame oil include linoleic acid, oleic acid, palmitic acid, and stearic acid.
Is cooking oil in general gluten free
Apart from a few oil varieties derived from gluten plants, like the wheat germ oil, edible is, in general, free from gluten.
Some of the best examples of gluten free edible oil are sunflower oil, canola oil, coconut oil, and olive oil, all of which are produced from gluten free sources.
However, naturally gluten free oil may end up with traces of gluten in them as a result of cross-contamination.
This happens when the oil comes in contact with glutinous items in the manufacturing or storage units or because of gluten-containing additives.
It is also possible that during cooking at restaurants or home, the oil comes in contact with food items containing gluten.
This may happen because of common utensils or reusing oil for cooking different foods, including those with gluten.
If your allergic reactions are set off even by the slightest consumption of gluten, then it is a good idea for you to be mindful about all things edible that you buy, whether it's the oil or anything else.
You should check for a "gluten free" label indicating that it has less than the permissible level of gluten.
Sesame Seeds
A little about sesame seeds
It is the most ancient oilseed crop. Archeologists believe that more than 5500 years ago, people in the Indian subcontinent domesticated sesame for the first time.
Sesame seeds, both black and white, are rich in:
| | |
| --- | --- |
| manganese | copper |
| iron | magnesium |
| calcium | |
The seeds, besides being rich in fat, also contain phytosterols, known for decreasing cholesterol and lowering the chances of certain cancers.
Sesame Sensitivity – A Growing Concern
While sesame seeds or the oil extracted from it do not contain gluten and are safe for people who are allergic to gluten or have celiac, they can trigger sesame allergy in some people.
The sesame allergy was first mentioned in medical literature in 1950. It was not until 2005 that this allergy was seen as a severe problem growing across the United States and the rest of the world.
In a matter of just 50 years, sesame allergy managed to feature among the top food allergies in developed countries. However, it has not yet managed to secure a place among the top 8 allergens in the US.
However, researchers report that sesame intolerance is on the rise in America. It can cause severe allergic reactions in people.
Gluten Free Sesame Oil Brands
If you are severely allergic to gluten or have celiac and want to be absolutely sure that your sesame oil is free from gluten, then here are the most reliable gluten free sesame oil brands available in the market:
Kevala Organic –This brand produces extra virgin, cold-pressed, and unrefined oil. It can be used not only for cooking but also for massage and Ayurvedic purposes. The oil is derived using low-heat methods. Thus, it maintains the nutritional and high quality and retains the rich aroma and flavor of the oil. This oil is healthy, natural, and free from GMOs. It's also verified as gluten free.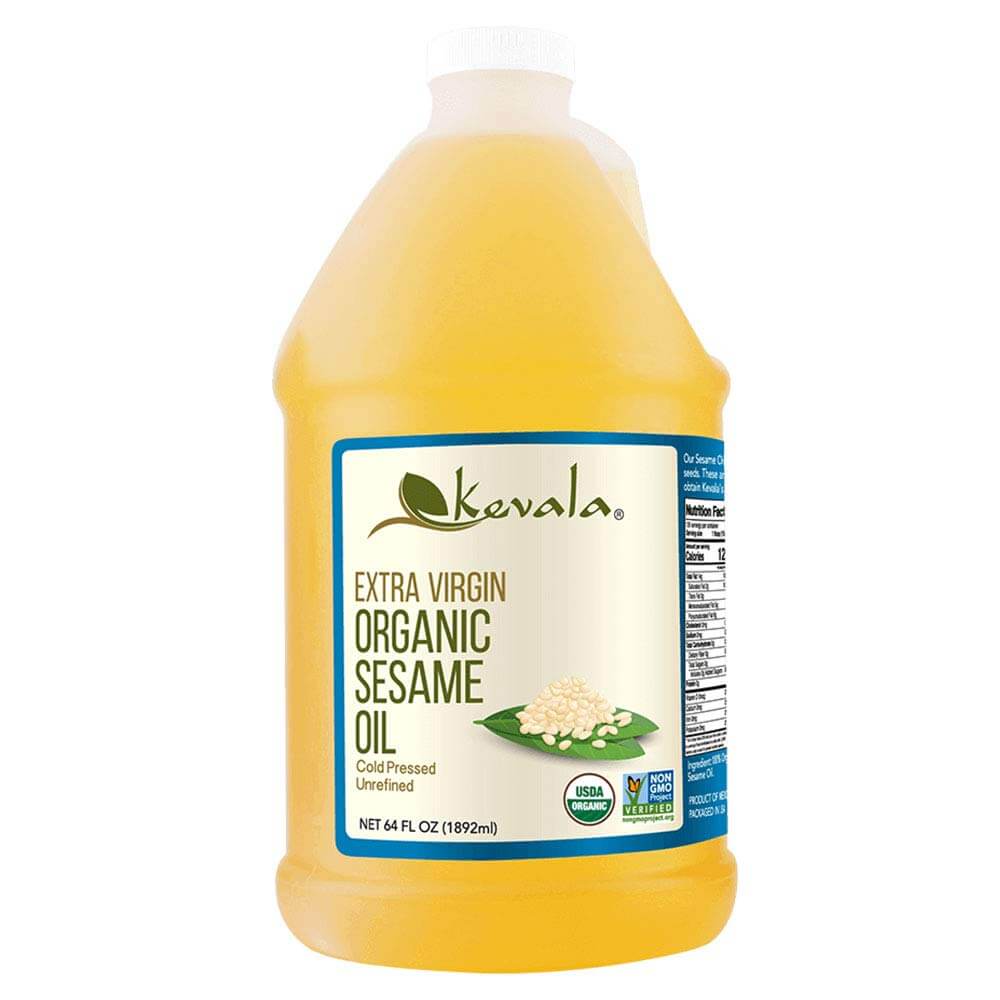 Napa Valley Naturals –The sesame oil produced by this brand is cold-pressed at lower temperatures to keep the original nutrients and flavor intact. Its flavor is light and fresh, and you can put it in anything from salads to noodles, soups to stir-fries. It is also perfect for external uses. You can consume this oil without any fear of gluten content as it is certified gluten free.
La Tourangelle –The roasted sesame oil produced by this brand is rich in flavor and color and is perfect for seasoning and cooking on low heat. The intense nuttiness of the oil makes it an excellent base for salad dressings and condiments. It is not an organic oil. If you like cooking Asian dishes at home, this oil is a must-have in your pantry. However, it is free from GMO and gluten.
International Collection –This brand produces sesame oil with a strong, nutty flavor, and it is perfect for salad dressings and low-heat cooking. You can simply top off your freshly stir-fried veggies with a spoonful of this oil, or enjoy it as a condiment. It is good for your heart as it is rich in monounsaturated fat. Expeller-pressed from seeds toasted at low temperatures, this oil is gluten free and healthy.
Gluten Free Sesame Oil Recipes
Now you know all how sesame oil is a flavorful and healthy addition to your plate without triggering allergic reactions due to gluten content. It's time to check out some delicious recipes with sesame oil!
Gluten Free Sesame Chicken
This is a rustic recipe that you will be able to whip up within minutes.
Ingredients
| | |
| --- | --- |
| Toasted sesame oil | 3-4 tbsp |
| Ginger | 2-inch knob, cut into fine strips |
| Chicken | 12 oz, cut into bite-size pieces |
| Soy sauce (gluten free) | 2 tbsp |
| Chinese rice wine | 1 tbsp |
| Sesame seeds (un-toasted) | 1-2 tbsp |
| White pepper (ground) | To taste |
| Salt | To taste |
Instructions
Set a wok or skillet on high heat and put 2 tbsp of sesame oil in it.
Add the ginger strips and start stir-frying till it's brown and aromatic.
Add the chicken pieces and stir-fry them for around 10-15 seconds.
Add the soy sauce, wine, and pepper. Give it a quick stir and add water.
If needed, add a sprinkle of salt. Add the water and mix again.
Put a cover over the skillet and turn the heat down to low.
Let the chicken cook for around 10 minutes, or till the pieces become tender.
Transfer the chicken to a bowl. Drizzle 1-2 tsp of sesame oil from the top and sprinkle the sesame seeds.
Your delicious sesame chicken is ready to be served with rice. Prepare to impress everyone with this simple chicken recipe!
Gluten Free Black Sesame Seed Cake Recipe
A "delicious gluten free dessert" is not a juxtaposition anymore! Try making this black sesame cake at home!
Ingredients
Unsalted butter – ½ cup (plus a little more to grease the baking pan)
Eggs (large) – 2 pieces
Whole milk – ½ cup
Black sesame seeds – 3 tbsp
Sugar – 1 cup
All-purpose flour (gluten free) – 1¼ cups + 2 tbsp
Baking powder (gluten free) – 1 tsp
Baking soda – ¼ tsp
Roasted sesame oil – 1 ½ tsp
Vanilla extract – 1 ½ tsp
Kosher salt – ¼ tsp
Instructions
Heat your oven to 350 F.
Grease your baking pan lightly with some butter.
In a frying pan, dry-roast 2 tbsp of sesame seeds for 3-4 minutes, until they start to emit fragrance. Stir the seeds occasionally. Keep the toasted seeds aside.
In a bowl, mix sugar and butter with a beater till you get a soft texture.
Once the sugar is incorporated, add the eggs, one at a time, and continue to mix. Don't forget to scrape the sides of the bowl.
In a food processor, chop the freshly toasted sesame seeds coarsely. Don't turn it into a fine powder.
In a bowl, combine the flour with the baking soda, baking powder, salt, and ground seeds.
Slowly add the dry mix into the mixture of butter, eggs, and sugar, as well as the milk, in small batches, and combine.
Once all the ingredients have been mixed, add the vanilla extract and the sesame oil, and them in.
Put the batter into the baking pan. Sprinkle the untoasted sesame seeds on the top.
Place the baking pan with the batter in the middle rack of the oven and start baking.
It will take around 45-50 minutes for the cake to become golden brown.
Bring the cake out the oven and allow it to cool.
Your delicious sesame cake is ready! Cut it into pieces, and dig in!
Breakfast Salad with Sesame Oil Vinaigrette
Start your day on a delicious and healthy note with this delightful breakfast salad!
Ingredients
Grapefruit – 1 piece
Toasted sesame oil – ¾ tbsp
Black pepper (ground) – ⅛ tsp
Kosher salt – To taste
Soy sauce – To taste (optional)
Rice wine vinegar – To taste
Microgreens (arugula, lettuce, etc.) – 1 cup (torn)
Avocado (ripe) – ½ piece
Honey – ¾ tbsp
Prosciutto – 1 slice
Instructions
Peel the grapefruit and cut sections of it and set aside.
In a medium bowl, squeeze out all the juice from the grapefruit membranes.
To this juice, add oil, honey, pepper, vinegar, and salt. Remember to add the vinegar in small amounts and keep checking the level of sharpness.
Mix them well with a whisk. You can also add a little soy for an extra dash of flavor.
Add the microgreens to the vinaigrette, and toss well to coat.
Cut the avocado into thin slices.
On a plate, place the greens. Arrange the grapefruit sections, avocado slices, and prosciutto.
Your delicious salad is ready to serve!
Conclusion
Sesame oil, both light and dark, can be a delicious addition to your kitchen. It can add an extra depth of flavor to any dish and transform it into something exotic.
Fortunately, even people who are allergic to gluten or have celiac can enjoy it without any issues.
You can always be extra careful and pick a brand that comes with a "gluten free" certification – a practice recommended for all your edible products.