While browsing the web and looking for the perfect gluten free pretzel sticks recipe, I found one thing in common. There isn't a good one! So I did what I normally do when I can't find the best answer, I create it myself.
The idea of gluten-free diets may sound boring to you. After all, indulging in floury baked goods and snacks is an everyday guilty pleasure for most of us. It's very difficult to resist those perfectly glazed donuts and chocolate muffins, especially when you're on a diet.
Going gluten free does not mean that you exclude all delicious food from your diet. It just means that you need to be a little more creative in the kitchen!
Gluten free diets can be made exciting simply by paying more attention to the ingredients you use in your everyday recipes. The key is to find alternatives to gluten and do not be afraid to try new things.
It's also important to avoid any cross-contamination in your diet by keeping your kitchen stations, utensils, pans, and surfaces clean and free from any traces of gluten.
Despite your dietary restrictions, you can still have easy to cook and delicious food at home. One of the most common snacks is pretzels.
Pretzels are full of buttery and salty goodness that makes them hard to resist. But if you're on a gluten free diet, then, unfortunately, you'd need to restrict yourself.
You can't buy them in malls or food carts outside because they are full of gluten and would ruin your diet. However, you can make a much healthier and diet-friendly version of them at home.
Let us help you with a recipe for gluten free pretzel sticks to satisfy your cravings. It's simple to make and uses ingredients readily available at home.
Gluten Free Pretzel Sticks Recipe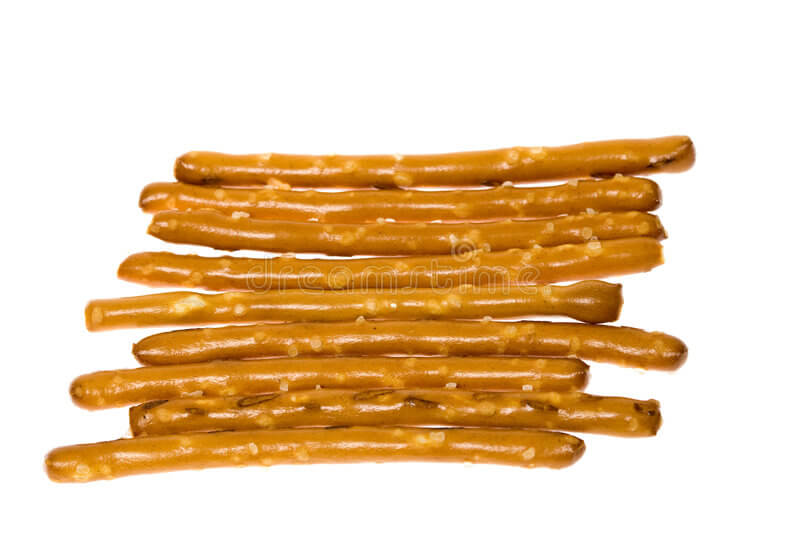 Gluten free baking can be full of trials, errors, and wasted ingredients. No one wants to be disappointed with the final product after putting in lots of hard work. However, this is a tried and tested recipe and will definitely surprise you with the outcome!
Here is a list of the ingredients that you will need:
Pretzel Dough
1 1/4 cups of lukewarm water
1 tablespoon honey
1 teaspoon salt
1 teaspoon gluten-free baking powder
1/4 cup olive oil (you can also use softened butter)
2 1/4 teaspoons quick-acting yeast or one whole packet
3/4 cup white rice flour
1 cup potato starch
1 tsp apple cider vinegar
1 cup tapioca flour
3/4 cup brown rice flour
1 tablespoon psyllium husk (whole/ or 1 egg for non-vegan)
1 tsp xanthan gum
Water Bath
6 cups of water
1/2 cup baking soda
Topping
Dairy-free margarine
Honey
Kosher salt
Method
First, you need to prepare the dough. To get started, you need to mix together all the flours, xanthan gum, salt, sugar, cornstarch, and yeast.
The yeast should first be mixed with warm water for at least five minutes to activate it. It's better to use a mixer so that all the ingredients are properly mixed. Adding the psyllium husk is crucial as it makes the recipe vegan as well.
Secondly, you need to add the water and oil and knead the mixture until a smooth dough is formed. It should take about 2-3 minutes. Once the dough is consistent and smooth, you need to let it sit for about an hour.
It is better to place it in an oiled bowl or cover the dough with olive oil before you let it rest. 
To let the dough rise, it should be kept in a warm place. You should also keep in mind that this dough will not rise a lot but only up to 50%.
After the dough rises, divide it into 12 equal pieces. This makes it easier to shape the dough as you require. Meanwhile, you need to put a large pot on the stove to boil about 6 cups of water. Now add baking soda to it.
Get the water to a rolling boil while you are shaping your pretzel sticks.
To shape the pretzel sticks, roll out the pieces of dough into a snake-like shape. You can use parchment or a rice floured counter so that the dough does not stick.
You can also shape the dough with your hands. Now cut about one-and-a-half-inch pretzel bites.
Preheat your oven at 400 degrees F and grease the cookie sheets with oil or butter, whichever way you prefer. 
When the water is boiling, add the prepared pretzel bites and turn the flame to medium-high.
The sticks will float to the top after a few seconds. Flip them and let them cook for another 30 seconds. After that, take them out and set them on the cookie sheets.
Make sure that the pretzel sticks are not touching each other and are evenly spaced. You can then line them up with dairy-free butter and even add a bit of honey on top.
Sprinkle with an adequate amount of salt on top. Finally, it's time to bake!
Put the pretzel bites into the preheated oven and let them bake for 15 minutes. They should come out looking puffed and brown! Your perfect gluten free pretzels are now ready to eat. 
If you prefer your pretzels to be softer in texture, you can bake for a lesser time and brush the warm pretzels with butter.
If you want a cinnamon flavor, you can minus the salt from the recipe and sprinkle some cinnamon sugar on them. It is also important that during baking, you rotate your pans so that all the pretzels receive the same heat and are cooked properly.
You can also get creative with the pretzel shapes and mold them into your favorite shapes.
These gluten free pretzel bites can also be served with your favorite dipping sauce. You can feast on them straight from the oven or store them in an airtight container, so they don't lose the puff. After all, the crunch factor is the most important! 
To store for a longer time, you can even freeze them. Just reheat them in the microwave or toaster oven for a quick snack.
You can also check out this great recipe by Feasting on Fruits if you prefer watching a video ( Video recipe might be slightly different from the text based because two different people created each )