Zatarain's, a popular food and spice brand, is known for spice mixes, including Jambalaya.  
Jambalaya is a well-known rice dish that may be glutinous because of the presence of Roux
Zatarain's has an exclusive range of recipe mixes, including Jambalaya variants, which are gluten free.
Zatarain's original Jambalaya mix is made from non-gluten ingredients, but it's not labeled as gluten free.
---
Is Zatarain's jambalaya gluten free? For vegans, a lot of times you wonder if by eating only veggies you are automatically free from checking the gluten free label on items?
Don't get it wrong, vegan food is NOT gluten free by default. Today we want to talk about the delicious dish called Zatarain's Jambalaya.
Have you ever tried the different variants of Jambalaya? This rice dish is a melting pot of different cultures from across the world.
Each version of the dish captures the flavorful influences of Native America, Spain, France, and West Africa.
If you want to make Jambalaya at home, Zatarain's Jambalaya mix is a shortcut to fixing a pot of the delicious dish. But, is Zatarain's Jambalaya gluten free?
Zaratain's has a wide range of products, including several Jambalaya mixes. Of these, their original Jambalaya is not officially marked as gluten free, even though the list of ingredients does not include any gluten product.
However, to be on the safer side, it's best to choose one of their gluten free Jambalaya variants. Zatarain's has a dedicated range of rice mixes that are labeled as gluten free products.
Is Zatarain's Jambalaya Gluten Free – What is Zatarain Jambalaya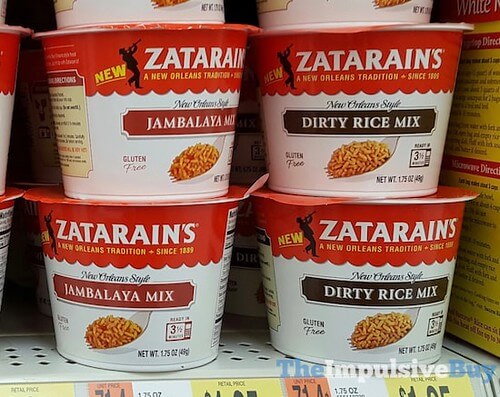 Jambalaya is one of the most popular rice recipes, full of exotic flavors. The main ingredients are rice and protein, cooked with lots of spices.
Traditionally, andouille or smoked pork sausage is an essential part of it. There are many versions of the dish, too, with lots of other proteins, including seafood.
Besides the holy trinity, i.e., celery, onion, and green bell pepper, the recipe may call for varied spices for a rich taste. 
Are you craving Jambalaya and want to cook at home? Are you also confused by the many recipes online for Jambalaya and don't know what to do? There's a simple solution for you – the Zatarain's Jambalaya rice mix!
It's the simplest recipe ever! You just need to add a pack of the product, along with sausages and some water. The Jambalaya will be done in about half an hour! But is it safe and gluten free?
Zatarain's Original Jambalaya, which is an extremely popular rice mix, is made from gluten free ingredients.
However, it is not officially marked as gluten free. It means there's a possibility that this mix might contain trace gluten due to reasons like cross-contamination.
The product has not been tested to check its exact gluten content. So, if you are severely sensitive, it might affect you.
However, there's no need to feel heart-broken. Zatarain's has an entire range of gluten free rice mixes, specifically made for gluten-allergic and celiac people.
This range of rice recipes contains five Jambalaya variants, ranging from spicy to cheesy. These products have all been tested to check the gluten content, and the result allows them to officially mark these as gluten free Jambalaya rice mixes.
What Makes Zatarain's Popular
Since its establishment in 1886, Zatarain's has managed to bring the best of Creole and Cajun recipes to the homes of Americans.
It provides spice and rice mixes that can give you delicious recipes at home. Its seasonings and spice mixes can add an aromatic touch to a homemade dish. It also has unique products like seasoned cornmeal for fried food, and root beer extract to make a brew at home. 
Zatarain's was started by Emile A. Zatarain Sr. as a grocery in New Orleans and later started to produce seasoning, spice mixes, and pre-cooked dinner packages.
Across a period of 130 years, Zatarain's has been operated in different forms and by different owners.
Currently, it belongs to a McCormick, the world-leading spice brand. Zatarain's still upholds the culinary culture of New Orleans.
The most popular of Zatarain's delicious wonders are the ready-to-serve meal recipes that families across America have been enjoying for decades.
These mixes contain seasoned and spiced rice and beans, all pre-cooked and ready to be heated or cooked and served.
You can either pop them in the microwave oven or add water to cook. You'll also need to add the proteins of your choice to the dishes. 
Zatarain's Gluten Free Range
To ensure that the brand's loyal customers can enjoy all the one-pot wonders, Zatarain's has recently come up with a range of gluten free meal mixes.
With the help of the National Foundation for Celiac Awareness, the company has come up with recipes that can fit into a gluten free lifestyle, without compromising on the traditional flavors. Some old favorites by Zatarain's now have a non-gluten twist.
It's a thoughtful initiative by Zatarain's to think of gluten allergy and celiac patients who often have a hard time choosing the right foods. The options available for them are limited.
They have to check every item's list of ingredients to see if it's a safe product, making grocery-shopping a daunting task. 
Even products with non-gluten ingredients may set off allergic reactions due to trace gluten's presence as a result of cross-contamination during manufacturing, packaging, or marketing processes.
The safest products are the ones that have been tested and marked as gluten free, like Zatarain's gluten free range.   
Zatarain's has 19 gluten free rice mixes with more in the making. All of them stay true to the original recipes and still cater to the dietary needs and restrictions of people with allergy.
The products proudly flaunt the 'gluten free' seal on their packaging. The label confirms that not only do they have non-gluten ingredients but their production and packaging systems, too, ensure a gluten free environment. 
Zatarain's Gluten Free Jambalaya
Zatarain's gluten free range contains fun versions of the popular rice recipes, and this range obviously includes Jambalaya. The Jambalaya recipes are a huge hit.
These use the tried-and-tested recipe, with a twist. Zatarain's gluten free Jambalaya range contains five yummy rice mixes. They are:
Zatarain's Mild Jambalaya Mix
Zatarain's Spicy Jambalaya Mix
Zatarain's Reduced Sodium Jambalaya
Zatarain's Brown Rice Jambalaya Rice Dinner Mix
Zatarain's Jambalaya With Cheese
All these above rice mixes are healthy and safe, and you can check the label and the ingredients list to be fully satisfied.
It should be noted that though Zaratain's Original Jambalaya recipe is not marked as gluten free, it still has non-gluten products only. The ingredients in the mix include the following:
Parboiled rice rich in iron, folic acid, niacin, and thiamine mononitrate
Pepper mix (chili pepper, black pepper, red pepper, paprika)
Onion
Garlic
Bell pepper (green and red)
Citric acid
Natural flavor
Salt
Many people generally avoid gluten, and trace gluten does not set off allergic reactions in them at all.
If you are one of them and are not severely sensitive, you can still try the Original Jambalaya rice mix. Just to be on the safe side, you can just consume a small amount to see if you are getting allergic reactions.
Zatarain's Original Jambalaya Recipe
The Zatarain Jambalaya is easy to make. You will just need to add some chicken, shrimp, gluten free ham, or gluten free smoked sausage, and you will end up with a stunning meal that everyone will love.
It's like a plate filled with soul food, rich in flavors of Louisiana's famous dish. Here's the easy recipe:    
Ingredients:
Zatarain's ® Jambalaya Rice Mix – 1 package
Smoked sausage – 1 pound (thinly sliced)
Water – 2 ½ cups
Olive oil – 1 tbsp (optional)
Instructions:
Stovetop –
Mix all the ingredients in a saucepan of 3 quarts.
Turn the heat to low. Cover and cook till the rice becomes tender, for around 25 minutes.
Remove from the heat and let it stand for 5 minutes.
The Jambalaya is ready. If you want to add shrimps, do so in the last 5 minutes of cooking.
Microwave Oven –
Mix all ingredients in a microwavable pot of 2.5 quarts. Put the lid on.
Turn the microwave to HIGH and cook for 5 minutes. Then, give it a good stir.
Now turn the power to MEDIUM (50%) and cook till the rice is tender. It should take about 18 minutes. Don't forget to give the content a stir now and then.
Let it wait for 5 minutes.
The Jambalaya is ready to be served. As mentioned earlier, the shrimps should be cooked in the last 5 minutes only.
Remember that the timing is for a 1000 W microwave oven. You may need to adjust the timing based on the oven that you're going to use for cooking.
A Little About Jambalaya
New Orleans was founded by the French in 1718, while the Spanish rule began there in 1763. Did you know that the Spanish have their own famous rice dish? It's the Paella, an aromatic dish that mixes lots of meats, veggies, and seasonings with rice, with a dose of saffron.
But they could not recreate the dish in New Orleans since, at that time, saffron was hardly found there. Thus, Jambalaya was born. 
Jambalaya is mainly of two types – Cajun and Creole. The Cajun Jambalaya doesn't use tomatoes and is more French-influenced.
On the other hand, the Creole Jambalaya uses tomatoes, and the influences of Spanish, African, and Caribbean are also distinct in this.
Altogether, this mishmash of complex flavors reflects the food cultures of colonial America and is now a massively popular dish worldwide.
What Might Add Gluten to Jambalaya
The traditional recipe of Jambalaya is a big, delicious mix of rice, spices, and meats. But is it possible for Jambalaya to contain gluten? The answer is "yes".
That's because Jambalaya may be prepared with Roux in the base, a mix of wheat flour and fat. That's not all. If the recipe uses glutinous vinegar, or Worcestershire sauce that contains malt vinegar, then that can be an additional source of gluten.  
Another ingredient that might add gluten to Jambalaya is smoked sausage, or any sausage, ham, or processed meat that you might add to the recipe.
Shocked? Actually, sausages and other forms of processed meats of average quality may contain wheat, used as fillers, binders, and extenders.   
Besides, in smoked sausages, the flavoring agent may be glutinous. Plus, the process may use wheat hay for smoking, or barley malt flour to capture the dry flavorings.
So, smoked sausages have every chance of containing gluten. So, make sure to buy only gluten free brands of smoked sausages or processed meat. 
When you cook your Jambalaya using Zatarain's mix, you will not have to worry about Roux, vinegar, or Worcestershire sauce.
Related: Is risotto gluten free | Is nacho cheese gluten free
Since you will not be adding ingredients or "cooking" the dish per se, there will be no opportunity to add these items into the dish.
However, you have to be careful about the gluten content in the smoked sausages or any other processed meat that you add to your Jambalaya. 
Gluten Free Jambalaya Recipe from Scratch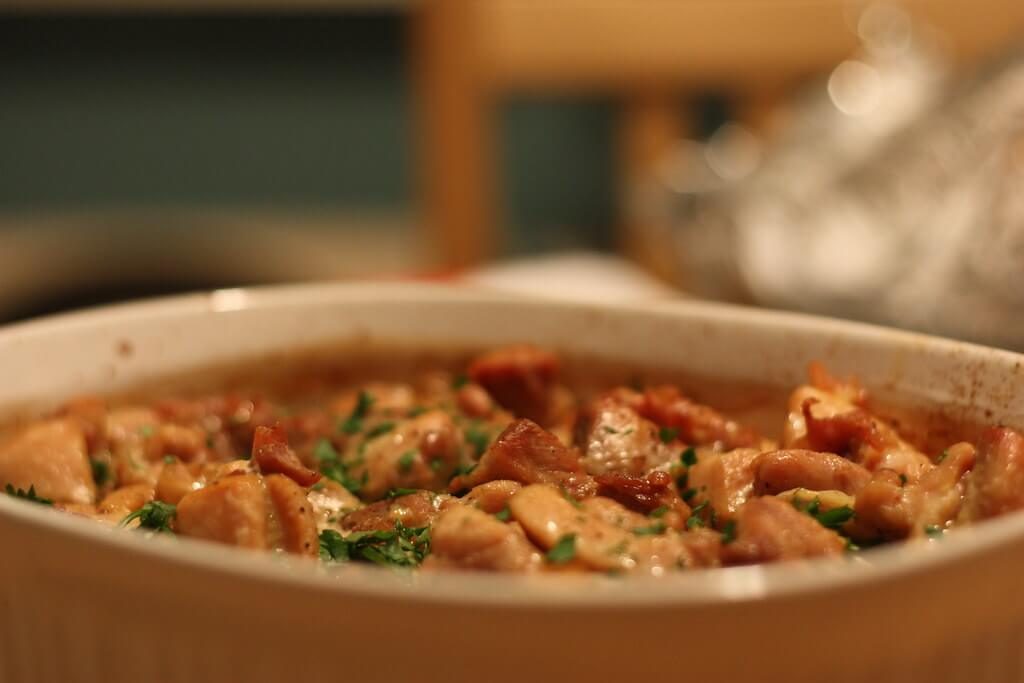 Is your gluten-intolerant belly craving for some Jambalaya, but you don't have immediate access to one of Zatarain's rice mixes? Don't worry.
It's time to check out this wonderful gluten free Jambalaya recipe. You can make the dish from scratch quite easily, and impress everyone, whether or not they eat gluten.
Ingredients:
Olive oil: 2 tbsp (divided)
Chicken: 1 lb (cut into small pieces of half an inch each)
Andouille sausages (gluten free): 12 oz (sliced into half-inch pieces)
Salt: 1 ½ tsp (divided)
Pepper: ¾ tsp (divided)
Onion (sweet; chopped finely): 2 cups
Celery (chopped finely): 1 cup
Bell pepper (chopped finely): 1 cup
Garlic (2 cloves, crushed)
Dry thyme: 1 tsp
Dry basil: 1 tsp
Cayenne pepper: ¼ tsp
Worcestershire sauce (gluten free): 1 tbsp
Tomato paste: 1 can (6 oz)
Tomato (diced, with juice): 1 can (15 oz)
White rice (long grained): 2 ½ cups (rinsed and drained)
Chicken broth: 4 ½ to 5 cups
Fresh parsley (chopped): As required for garnishing
Instructions:
In a large pot, put 1 tbsp of olive oil. Add the sausages and cook for 2 minutes.
Next, add chicken to the pan and continue to cook for 8-10 minutes over medium flame.
Remove the sausage and meat pieces from the pot and set aside. Add 1 tbsp of oil in the pot, and put the chopped bell pepper, onion, and celery. Cook the holy trinity for 6-8 minutes.
Once they are tender, put the garlic into the pot and saute for 2 minutes.
Then, put the cooked chicken and sausages back into the pot. Add cayenne pepper, dried herbs, salt, and black pepper and toss everything to combine properly.
Now, put the Worcestershire sauce, canned tomatoes, and tomato paste, and combine everything.
Finally, add the rice and 4 ½ cups of the chicken broth. Give all the ingredients a good stir.
Bring the content in the pot to a boil and reduce the flame to low. Cover the pot and let it simmer.
Make sure to check after 25 minutes to see if you need to add the rest of the liquid. If needed, give the content at the bottom a stir to avoid burning. Let it cook for a total of 30-40 minutes.
Remove from the heat, and divide it into plates immediately. Top it off with chopped parsley.
Your gluten free Jambalaya is ready to be devoured! You can enjoy it yourself, or serve it to your family. It can also be a great hit among your guests at a dinner party or alfresco brunch!
It's simple, light, and packed with flavors – and of course, it's free from any gluten content. 
Jambalaya Casserole Recipe
Love Jambalaya and want to try something unique with it? Here's a fun recipe that puts a brilliant twist to the traditional Jambalaya – a breakfast casserole!
Here's a1 delicious way to start your day – with a recipe that makes gluten free Jambalaya even more exciting
Ingredients
Gluten Free Jambalaya Rice: 6 cups
Ham (gluten free): 1 lb (chopped coarsely)
Eggs: 8 pieces (lightly beaten)
Half-and-half: 2 cups
Cheese (Monterey Jack): 2 cups
Red bell pepper (chopped): ½ cup
Green onions (chopped): ¼ cup
Instructions: 
Prepare Jambalaya, as mentioned in the recipe above, replacing smoked sausages with ham.
Preheat the oven aside at 350 F.
In a bowl, add eggs and half-and-half and mix them. Add chopped cheese, red bell pepper, and green onions, and mix again. Set the mixture aside.
In a baking dish or 13 x 9 inches, spread the cooked rice. Pour the egg mixture over the top of the cooked Jambalaya.
Put the tray in the oven and bake for 30 minutes and let it stand for another 30 minutes.
Your Breakfast casserole, using Jambalaya, is ready. It's something you can make with leftover Jambalaya rice, as well.
It's yet another great recipe to enjoy with your family or serve at the brunch, and you'll soon be the talk of the circle!  
Conclusion
Jambalaya is a popular dish, and you can easily stir up a delicious gluten free version of it from scratch, without compromising on the flavors.
However, if you don't want to get into the hassle of gathering all the ingredients that give it rich flavors, you can use Zatarain's gluten free Jambalaya rice mixes.
Zatarain's original rice mix may not be marked or proven as gluten free, but it is made of non-gluten ingredients. So, it may be safely consumed by those who are not severely allergic to gluten.
Otherwise, to be on the safe side, you should choose one of the Jambalaya mixes from its gluten free range.